Whether you want to snorkel on one of Aruba's many reef's or wrecks or maybe catch some of the beautiful Aruban local sun then Cruzancat is the choice for you!
Our Gold Coast Catamaran is ideal for your every need from daily scheduled snorkeling trips to private charter trips for you and friends and family, all at extremely competitive rates!
Get 10 of your friends together and have the whole boat to yourselves. E-mail now and find out how.
Facilities on our catamaran include a fully loaded galley where we prepare snacks and fresh fruit for your trip, right thru to a fully equipped and stocked bar with all your favorite wines and spirits, all included in our standard price!

Come see first hand as Su Zanne has discovered, sailing in Aruba's waters is truly and unforgettable adventure. Su Zanne has sailed from Florida to Aruba, to racing "Cruzancat" in Bonaire. Winning second place in the open class.
This is truly a luxury sailing catamaran that is fast and very comfortable!!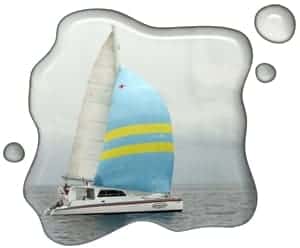 PRIVATE CHARTER RATE:     Great Deal!
up to 25 persons, 3 hours, open bar, snacks, sail & snorkel:
$1250.00 additional persons add $50.00 max passengers 36 SWEETHEART SUNSET SAIL:

All rates are excluding gov't tax…
Wednesdays & Fridays:
5:00 pm to 7:00 pm. cost $60.00 pp.(Belgium chocolates, champagne, open bar, fruit and dried snacks, roses for the ladies)