Welcome to Unique Sports Aruba, a place where you can get information about water sports like you never have. And with the sunny weather, birds in the sky, white sand beaches, tasty international cuisines, and friendly locals at Aruba, you can't go wrong. Aruba Island is one of the best places you can have a great relaxing holiday by the ocean. What makes Aruba Island a blast? Find out in this article.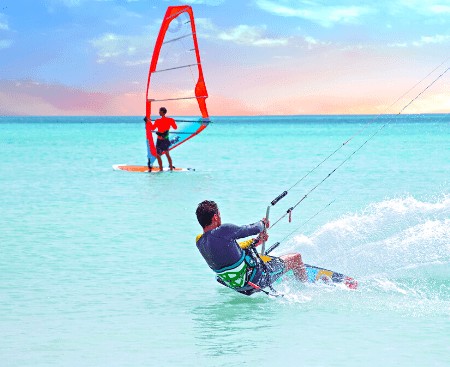 The Aruba Island – Ideal Place for Water Activities
As we have previously said, for an ultimate water sports entertainment, Aruba Island is the ideal place for you. Although Aruba Island is a small part of the Caribbean, there are so many fun places to visit for relaxation and some ultimate water sports.
Aruba Island is so small that you can tour it in 2 hours, but at the same time, it offers tourists fun activities like water skiing, parasailing, snorkeling, and surfing, amongst others. You can lay at its prettiest beach to enjoy a spectacular sunset.
Aruba Island is one of the safest islands in the Caribbean you can visit. Aruba is consistently ranked the safest year in year out because they record the lowest rates of petty and violent crimes.
The Ultimate Water Sports Today
The ultimate water sports we see today goes way back in time from the times of the Olympic. From canoeing through diving and surfing. Participating in any of these activities gives you the best adventure.
Surfing is one of the types of surface ultimate water sports where the surfer rides on the face or forward of a moving wave. These waves most times carried the surfer towards the beach shore.
Unlike regular surfing sport where the rider sits and waits for the wave to come, in Stand up paddle surfing, the rider stands on their board. Riders propel themselves through the water by using a paddle.
Kayaking and canoeing are similar water activities the significant difference is in the number of blades on the paddle and the sitting position of the paddler. In kayaking, a two-blade paddle is used, but in canoeing, a single-blade paddle is used.
Tubing is one of the adventures filled recreational activities where the rider ride in an inner tube on either snow, through the air, or in water. The tubes are also called biscuits or doughnuts due to their shape.
Water Skiing is another one of the types of surface ultimate water sports where the rider is pulled by a boat or by a cable ski installation over a body of water skimming the surface on one ski or two skis.
Experience the Beach Adventure Online
You can experience the thrill of ultimate water sports playing online games at any legal casino that gives an impressive casino bonus. So, even though you can't make it to the Caribbean for an exhilarating adventure, you can still have fun playing some popular games. Here are some games you can consider playing for fun.
Speedboat racing is a type of game where you'd be competing with speed boat racers to win the race on amazing rivers. The game is incredibly amazing, with so many rough waters and sharp turns. If you win the race, you'll unlock thrilling tracks and amazing new boats. There are also so many ramps you can use along the way for more excitement, and collecting lots of power-ups to boost your speed.
Surfing-Themed Slots Games
Nowadays, slots games are ruling the gambling throne. They are so easy to play and have the best winning odds. Surfing themed slots is an ultimate source for fun you can play at any online casino, and we recommend to look up for legal casino sites. Many of the online casinos offer a variety of casino bonuses, which you can use to play free slots games, and if you win, you can cash out real money. If you are a beginner, lookup for online casinos that offers no deposit bonuses, you'll get the best start that way. Good luck!